She is known as film and tv actress. Amongst others the starred in the highest rated german tv series since 1970 and demonstrated her talents as tv host, model and voice actress.
The Multi-talent from BREMEN
Julia inherited her musical talent from her father, a former internationally renowned conductor, composer and the Bremen cathedral cantor. From childhood she grew up with music, learned various instruments and singing. Julia inherited her temperament from her Brazilian mother. As the only girl amongst four brothers, she learned early on to find her role within the family, to fight her way and assert herself. As a result, Julia developed plenty of self-confidence and a healthy amount of ambition. All of this brought her to America at an early age, where the passionate basketball player first launched her athletic and then her acting and hosting career. Even though part of her heart still beats primarily for Hollywood and international film, she has gained a foothold in various German TV and film productions, including the infamous crime classic "Tatort."
Changeable, creative and full of passion – Julia Helbich slips into every role and makes it hers.
Her open and refreshingly natural manner makes Julia Helbich a sought-after moderator and discussion partner.
DISTINCTIVE AND TO THE POINT
Her distinctive but melodious voice is an asset for every audio book and TV commercial or for the dubbing of computer games as well as foreign language or animated films.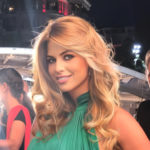 contact@julia-helbich.com
contact@patricia-lessnerkraus.de